Whether you are planning an event for a group or you are looking for a unique gift for your special someone, consider hiring us to entertain your audience in 4-part harmony.
Cost depends upon the size of the group you are booking and the length of the program. Organizations often hire the full chorus and all of its quartets for an hour or more. If that doesn't work for you due to space considerations or cost, you can hire one of our superb quartets to perform just a few songs or a 10 to 30 minute audience-engaging show package that's sure to be a hit with any crowd or individual.
We will come to a home, an office, a restaurant, or a hospital room. Wherever you have permission to have us visit.
Doctors have hired us to sing for their staff during the holidays. Employees have hired us to serenade their manager on Boss' Day. Spouses, who are stuck for a present for an anniversary or birthday, find the gift of song to be the perfect solution. And what could be a more romantic tribute to the love of your life on Valentine's Day than songs of love? We even include a rose, a personalized Valentine's Day card, and upon request, digital photos of your special occasion.
Proceeds from chorus engagements, over and above administrative costs, support our education and charitable efforts, described here. In fact, if you are a school or nursing home, teaching and entertaining your students and residents are part of our mission. We may perform at no cost to you.
To discuss what we can do for you, either call us at (352) 399-6430 or complete the Request for Information form on this page.
INDIVIDUALS & GROUPS LOVE OUR SERENADES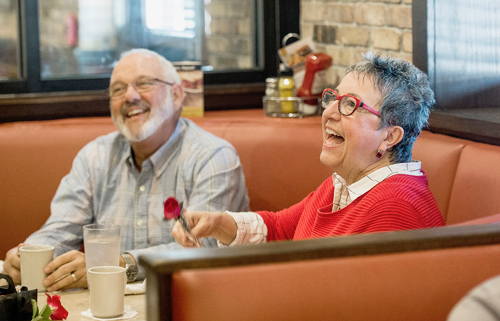 – Photograph by Cindy Skop | Daily Sun
 Whatever the occasion – let one of our quartets or our whole chorus entertain you.